I'm going to share my new ring that I just bought from
Automatic Honey
!
Simple but cute packaging.
I was able to meet up with them in person to pick up my ring.
The ring is carefully covered in bubble wrap. On the left is their awesome business card!! I'm seriously in love with it.. I think it's the best design I've ever seen *__* The card is more sturdy compared to the usual business card, and that is actual glitter on the design♥
The other side of the business card and the ring.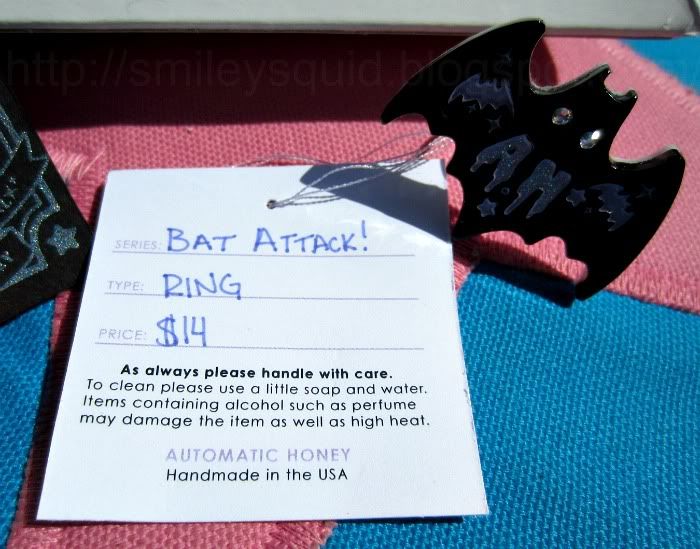 The price tag is so cute too!
The white specks aren't a part of the design, but fresh dust and pollen I forgot to clean off @_@
Not the best picture to show off the ring, but ahh!! There's glitter in the initials, and the eyes are Swarovski crystals.
The back side of the ring. The metal is so nice and strong! It was a perfect fit for me too, so I didn't need to adjust it. Look at my previous outfit snaps
here
and
here
to see me wearing it.
One thing that's really obvious is the attention to details! There's seriously not one stone left unturned.. the design is great, the quality of materials is top notch.. even the ink and string (which was sparkly lavender by the way) on the price tag matched the ring! The bat and ring are both thick and well-adhered to one another, so it doesn't feel like it'll easily break.
I guess my only complain is that there isn't enough supply to please the crowds! I'm lucky enough to snag a piece for myself, but they tend to sell out their entire collections as soon as they're released online. But it's understandable though, since each item is carefully handmade and they aren't mass-produced.
You can see their etsy here, although everything is sold out at the moment:
http://www.etsy.com/shop/automatichoney
But you can still
browse through their sold items
to see what you missed out on
(and be sad ;3;)
. I can't wait to see what they have next in store!